Hi! We've been listening to your feedback and we are super proud to announce the release of Grow with Jane 1.5.0! This is one of the biggest releases in 2020, full of useful features for growers like you!
We want to thank everyone involved in this release, from the users that sent us feedback, to the testers and translators. Together, we are building a platform that connects cannabis home growers worldwide.
So, let's get started with the news!
?? Share your Growlog online it's out of beta! ??
In a previous update, we enabled the "Share Growlog" button for the members of the Grower's Circle. The "Share Growlog" feature lets you create an online growlog, accessible with a link in any browser. You can share that link with anybody with an internet connection, so they can see your Growlog's photos, Environment information or how did you grow the plant.
We are slowly rolling those same links and they will be listed in a new section called "Explore Growlogs" in Grow with Jane's own website if you don't see yours, just wait until we fully automate the process.
This means that you can see how other growers are growing their trees, learn new techniques or just see some beautiful photos.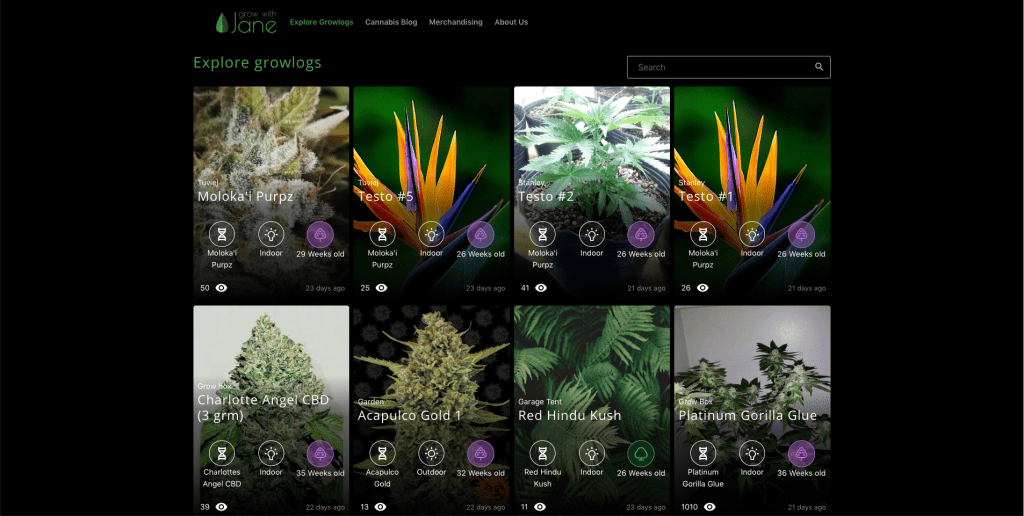 Note: Every growlog listed in "Explore Growlogs" it's anonymous. No personal data at all, just the trees. Eventually, it will get full fledge social features, but for now, it seems safer to go this way. If you have any doubts, send us an email at contact(at)growithjane.com
⚡️Nutrients Mixes are here to stay!⚡️
We've got a lot of feedback with the Nutrients action and we listened. Before this update, adding a new nutrient application was a time-consuming action. Every time you wanted to you had to manually write all your products, the amounts, etc.
But not anymore! We revamped the nutrients' actions. Add every product you have, the amount and proportion just for the first time. After that, every time you feed nutrients to your trees, just pick them from the list.
If your product doesn't appear in our database, you can add it to your list.
???? New languages: Italian and Polish ????
We added two more languages to Grow with Jane! Italian and Polish. A million thanks to Arberto, Andrea and Tomasz for putting the time and effort so even more growers can use Grow with Jane and share it with the community!
Quality of life updates
You can swipe all the photos in the gallery and growlog without stop. Go try it out, it's super fun!
Pictures in the gallery now show an icon when there is a note.
You can now "unharvest" a wrongly harvested plant.
Fixed login issues for some languages
And that would be all!
Thank you for everything! If you have any messages or feedback, we are glad to talk with you.
?Happy growing! ?